arivatanen.com
mainostoimisto Avalon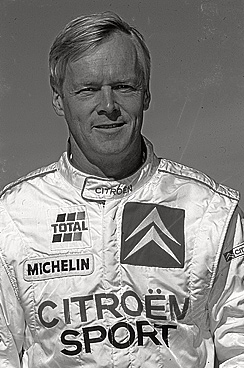 Read Ari's thoughts
Share this link
Ari Vatasen mietteet
Colin McRae - Fragile life
04/14/2009
As we left the dacha of President of Ukraine near Kiev on the evening of Saturday 15 September I thought to myself how wonderful it was to have had the privilege and honour of visiting Mr Yushchenko's villa for 2 years running.

Then I received a text message on my mobile phone informing me of some shocking news. Our dear friend Colin McRae had been involved in an accident. I was suddenly reminded of the harsh realities of life and all thoughts of meetings with Presidents seemed somewhat unimportant.

When the news was confirmed we all felt paralysed, shell-shocked almost. This couldn't be true! Only recently Colin had taken a rather long drive to join Rita and me for dinner following our meeting with Scottish Conservatives.
One could assume that the wife of a rally driver may on some level be prepared for receiving the dreaded call. But can anyone really be prepared?

Rita was physically ill after hearing the sad and shocking news, which reminded her not only of the death of her first husband who died in an aviation accident but also of how I had almost suffered the same fate in an accident in Argentine.
I often thought that Colin and I shared a similar driving style. Observers would probably say we shared an: "all or nothing" attitude to driving. I say, "You have to live life to the fullest!".

Colin survived numerous rally car crashes almost without a scratch. Now the worst possible scenario had happened: the great Colin McRae had died with his own son and two of their closest friends in an accident right in front of their home.
My wife Rita and I could not sleep that night with so many thoughts and memories going through our minds, full of worry for how Colin's wife, Alison would ever cope with such loss.

On hearing such news people instinctively think that helicopters are dangerous. I disagree. Life is simply fragile and should be cherished. A life can come to an end in many ways whether it is cancer, a bicycle accident or an electric shock. All of which acquaintances of mine experienced during the summer.

It is difficult for us to admit how small we are in the grand scheme of things. Our illusion of power and control over life is like the morning haze, in that our judgement is often clouded. The great Konsta Pylkk_nen (a well known fictive philosopher by Finnish writer Veikko Huovinen) once said "In the celestial scale, the human has the power of an ant." I couldn't agree more.

We do not want to face the fact that life is limited, and that in many ways we lack the power to escape our own destiny. At the same time we forget the core principle of life. That is, from the day we are born we live on borrowed time, and every new morning is a miracle - and a birthday. We want to explain everything and to receive an answer to our questions but life remains a mystery. Life is more tragic than we want to admit or accept.

Who would want accidents, surprises and sorrow? Death, like birth is an integral part of life, and it walks beside us silent but ever present. It is a liberating experience to realise and accept one's own mortality. I have often thought how I would react if a doctor would one day say to me: "Vatanen, you have a cancer and less than a year left to live." As much as I would like to live as long as possible with Rita, and follow the lives of our children, I think I would be ready to accept giving up my beloved ones. Because I know that the separation would only last but a short moment. In fact in many ways our lives are about learning how to give up. As we come here empty handed, we leave here empty handed.

Jesus pointed out how blind we can be to such things in saying to his disciples: "Why are you afraid of your enemies since even in the worst case they can only kill you. Be afraid of the Devil who will take your soul". The length of our journey on earth can not be used to measure the value of life. Even a short life can touch future generations, and a child with Down syndrome, deficient in the eyes of many, is valuable. Such a child's innocence and sincerity melts the ice within us.

I miss Colin. The fragile nature of life makes it so unique. Even though life has often reminded me of the uniqueness of the moment at hand, I still find myself wasting beautiful moments. Will I remember to hug my loved ones today?
Viljo Kojo:
There is no greater punishment for our sins
than that life would not ever fade away
As such - dwindling, it is beautiful and precious
as a golden summer day under the sun
jimmy mills
08/01/2009
it is encoureging to know that someone as famous as ari can still stand amid the trials of this world and hold to the truth of the bible and the guidence that can be found in it for the journey of life.
Kirjoittanut: jimmy mills