arivatanen.com
mainostoimisto Avalon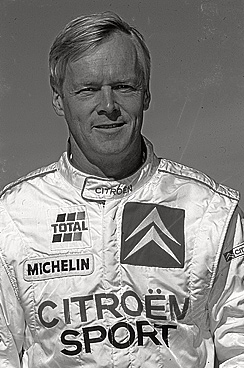 Read Ari's thoughts
Share this link
Ari Vatasen mietteet
Starry Stage
02/04/2011
The Ravolainen Boys
27 July 2003
Article published in Esa Saarinen's 50th Birthday Jubilee Book
Thinking back to the special stage at Myhinpää, Finland, still quickens my mind and gives me goose bumps. It's like listening to Sibelius' Finlandia Hymn. In the Rautalammi hinterlands, the wilds of Savo, the most awesome of special stages, the speed captivated me like a pianist playing with his eyes closed. I exceeded myself there. But it was the village folk that left the deepest impression in my heart. I felt welcome as I got to share in the lives of these people. I have witnessed the cheerful Koponen brothers grow up from little blond toddlers to adults. Nine sons who look alike, and Jarmo, their foster brother. Liisa, the boys' only sister, passed away unexpectedly when her life was just about to blossom.
I have had the opportunity to follow the Ravolainen family intimately. The meek of our land. Far from boulevards. Among the toughest folk of our tenacious people. They keep our country afloat. Their simple house stood near the road, one kilometre before the special stage start line. The family consisted of Väinö, the father, who drove lorries all his life, to add to the small farmer's bread and butter, the mother, Raili, the sons, Juha-Pekka, Kimmo, and Pasi, and the mother-in-law, Katri. I saw the three little boys frolic in play as I was practising for the first time for the 1000 Lakes Rally in 1974. I soon became better acquainted with the lads, who were flourishing their cross-ruled copybooks with blue covers by the roadside. Even when I was in a hurry, I did not have the heart to drive pass them without stopping. After all, it was only a while ago that I myself had dreamt of catching just a glimpse of rally drivers in Tuupovaara. I now had to pinch myself to really believe that I was actually driving in the 1000 Lakes Rally!
Summer by summer, I watched the boys grow, until at the turn of the 1980's, I was astonished to see them in wheelchairs. First Kimmo, and one summer later, Pasi. Both at the age of eight. I wasn't even aware that the boys suffered from muscular dystrophy. The illness did not slow their pace. Pasi, the younger and livelier of the boys, always drove his motorized wheelchair to the start of the special stage to collect any autographs that he lacked. "I've got a book from my big brother, too. He remained hiding behind the cow-house."
At one time, I was catching up with Väinö, the father, and Pasi, next to their mailbox by the road. In a quiet voice, Pasi told me that the rally cars do not pull up by him. "Lift your book way up in the air, so that the competitors will spot it," I encouraged him. "Pasi's hand does not rise any longer," said the father standing beside me. It strained my heart. In the evening, at the hotel, I told this to Kankkunen and the others. The next day, all of the drivers, who were practising that special stage, pulled up by the boys.
In the summer of 1988, the rally did not pass by Myhinpää. One year later, I only practised that stage a couple of times. After all, as with dozens of other legs all over the world, I knew how to drive this stage, even with my eyes closed! My old teachers would have something to wonder about... It was drizzling in the race proper. I drove a Mitsubishi that was not yet ripe and could not catch up to the speed of the best cars. The village people were waiting for us at the Säkinmäki schoolyard service point before Myhinpää, standing in a ring around the service cars. It was the same place where the now late Henri Toivonen sank down years ago and covered his face in his hands after hearing our time. Six seconds can feel like a light year. On the other special stages, he put me in a tight spot. Now, I was thinking about the weather that had changed. What tyres shall we take and should the dampers be slackened as the roads were becoming slick? In the middle of this pondering, I ask some villagers, how the Ravolainen family was doing. I hadn't had time to say hello to them while practising. "The boys died," was the answer. "Last year. Kimmo in the early summer, and Pasi on the threshold of autumn." My heart sank. I felt as if it was only my body that stayed at the service point. My mind was now somewhere else. "Get the car some tyres, please," I ask the mechanics and start driving. I begin to drive. The call of the Koponen boys and the other villagers remains echoing in my ears, "Ari, set the fastest time, to commemorate the boys!"
Speechless, I drive towards the special stage. The clouds hang down. I reflect on the short-lived lives of the boys. I feel unreal. Rally driving seems so futile. Approaching the Ravolainen's house, from afar, I see a dark figure in the middle of the road. As if guessing my reflections, Väinö, the father, is waiting for me. I stop beside him. He encloses my hand in his labour-hardened hands. We do not utter a word. I see tears on his weathered face. I continue my ride. I see the road dimly, but inside, I feel I am being cleansed. It is as if ice has melted in my chest. I realize that the boys are in Heaven. At the starting moment of the special stage, I feel extraordinarily light. "Three, two, one – go!" My driving flows by itself, subconsciously. Like a harmonious melody. It felt as if I had been looking at my own driving from aside. "You set the fastest time," they said at the finish. My only one at that 1000 Lakes Rally.
In the autumn of 1999, I was invited to a great many party gatherings. I declined to go. Instead, it was a great honour for Rita and I to attend Väinö's 60th birthday party before Christmas. Time seems to come to a standstill in the quiet of the snowy farmyard. The odour emanating from the cow-house into the yard carries a strong flavour of life. Raili, the mother, still looks after her five cows with pioneer-like dedication. "Why, they can't be ousted from their home." The statistics of Brussels do not recognize an economy such as this. Väinö had returned home late in the evening after having hauled a load of reinforcing steel bars to Ostrobothnia. Juha-Pekka, who drove the Rally in a Lada, continues his father's work as a lorry driver. "Roll on down the highway." The family's assiduousness and sense of responsibility are a breath stretching back to post-war Finland. Does that Finland still exist?
We are met inside with the warmth of a baking oven and the scent of coffee. The aging village folk are seated in the cottage, wearing their Sunday best. In the dusky winter afternoon, the atmosphere is devout and respectful. We receive provisions for the journey of life. Väinö looks back at the boys' final summer. After Kimmo's death, Pasi asked his mother, Raili, "Did Kimmo cry?" to which his mother answered, "We need not cry. Angels will meet us at the Gate of Life." Pasi calmed down. Confidence in tomorrow endured. "Dad, we'll go to follow the 1000 Lakes Rally this summer, too, won't we."
Pasi's flame of life was extinguished during the competition. During the funeral service, the vicar wondered, "How will you keep going from now on?" Always positive, Väinö responded, "There seems to be a wall confronting us." But a ray of light comes through it. We walk towards that."
Our friend, Esa, likes to hear about the Ravolainen family again and again. Esa's greatness lies in his sensitivity to see the breathtaking beauty of life's mosaic in every human being.
Ari Vatanen
Transparency to FIA
07/28/2009
Dear Friends
Responding to requests from many FIA member clubs, I shall stand for presidential elections of the FIA in October this year.
I think the time has come for a change. My main focus is to reconcile views within the FIA and bring transparency to its stakeholders. The duty of President is to defend billion automobilists and the great sport of ours.
My main focus will be to unify the FIA and increase transparency for you, the owners of the Federation.
Campaign Statement
Responding to requests of a large number of FIA Members, I have decided to run for the Presidency of the FIA in October. I want to make a difference and I want change, I understand many of you share my desire.
My main focus will be to bring unity to the FIA and increase transparency and accountability for the members, who are after all the true owners of the Federation and must play a central role in our organisation. I bring to my candidacy a long history and experience in both Sport and Mobility.
In Motor Sport, I competed at the very pinnacle of rallying for much of the 1980s and 1990s, during which time I developed a thorough understanding of our great sport and its needs. As President of the FIA, I will seek to restore the harmony and camaraderie in motor sport – from grass roots to F1 – that very much existed in my rallying days. The only battles we see should be sporting not political.
In 1999 I left the world of motor sport to become a Member of the European Parliament (MEP). During 10 years in Brussels and Strasbourg, I dedicated my time to championing mobility. I am a firm believer in the fact that Mobility has brought unrivalled benefits to society, and I know that this view exists in the very heart of the FIA. We have a responsibility towards the FIA's millions of individual members and the rest of the world's one billion motorists, to defend and preserve mobility.
As an MEP, I worked to do just this. In 2005 I created Mobility for Prosperity in Europe (MPE) an organisation born to defend mobility against a series of disastrous policy proposals that sought to restrict mobility rather than let it flourish. MPE's aims were to decouple the harmful effects of transport from its growth rather than try to limit transport as long as they are efficient and non-subsidised; show that modal shift is not a solution to mobility; improve logistics and lower costs of mobility; enhance the image of transport; and reduce waste of taxpayer's money.
Thanks very much to our joint efforts the politics of EU made an about turn in 2006 accepting our points, and till my last days as an MEP I continued to champion reason and fair play for Mobility, supporting the EU when it got things right and speaking up when it got things wrong.
As FIA President I would seek to continue this work, and utilise the full strength and power of our organisation to protect mobility throughout the world.
I grew up and experienced success in motor sport, I have served as an MEP and won success for Mobility, I have the credible skill set to deliver for the FIA.
Together we can.
Ari Vatanen
Official campaign website www.arivatanen.com
Check out also Ari Vatanen for FIA President Facebook support group. There you can find instructions on how to participate in a competition for making a supportive YouTube campaign video.
Milk Ad
04/15/2009
Colin McRae - Fragile life
04/14/2009
As we left the dacha of President of Ukraine near Kiev on the evening of Saturday 15 September I thought to myself how wonderful it was to have had the privilege and honour of visiting Mr Yushchenko's villa for 2 years running.

Then I received a text message on my mobile phone informing me of some shocking news. Our dear friend Colin McRae had been involved in an accident. I was suddenly reminded of the harsh realities of life and all thoughts of meetings with Presidents seemed somewhat unimportant.

When the news was confirmed we all felt paralysed, shell-shocked almost. This couldn't be true! Only recently Colin had taken a rather long drive to join Rita and me for dinner following our meeting with Scottish Conservatives.
One could assume that the wife of a rally driver may on some level be prepared for receiving the dreaded call. But can anyone really be prepared?

Rita was physically ill after hearing the sad and shocking news, which reminded her not only of the death of her first husband who died in an aviation accident but also of how I had almost suffered the same fate in an accident in Argentine.
I often thought that Colin and I shared a similar driving style. Observers would probably say we shared an: "all or nothing" attitude to driving. I say, "You have to live life to the fullest!".

Colin survived numerous rally car crashes almost without a scratch. Now the worst possible scenario had happened: the great Colin McRae had died with his own son and two of their closest friends in an accident right in front of their home.
My wife Rita and I could not sleep that night with so many thoughts and memories going through our minds, full of worry for how Colin's wife, Alison would ever cope with such loss.

On hearing such news people instinctively think that helicopters are dangerous. I disagree. Life is simply fragile and should be cherished. A life can come to an end in many ways whether it is cancer, a bicycle accident or an electric shock. All of which acquaintances of mine experienced during the summer.

It is difficult for us to admit how small we are in the grand scheme of things. Our illusion of power and control over life is like the morning haze, in that our judgement is often clouded. The great Konsta Pylkk_nen (a well known fictive philosopher by Finnish writer Veikko Huovinen) once said "In the celestial scale, the human has the power of an ant." I couldn't agree more.

We do not want to face the fact that life is limited, and that in many ways we lack the power to escape our own destiny. At the same time we forget the core principle of life. That is, from the day we are born we live on borrowed time, and every new morning is a miracle - and a birthday. We want to explain everything and to receive an answer to our questions but life remains a mystery. Life is more tragic than we want to admit or accept.

Who would want accidents, surprises and sorrow? Death, like birth is an integral part of life, and it walks beside us silent but ever present. It is a liberating experience to realise and accept one's own mortality. I have often thought how I would react if a doctor would one day say to me: "Vatanen, you have a cancer and less than a year left to live." As much as I would like to live as long as possible with Rita, and follow the lives of our children, I think I would be ready to accept giving up my beloved ones. Because I know that the separation would only last but a short moment. In fact in many ways our lives are about learning how to give up. As we come here empty handed, we leave here empty handed.

Jesus pointed out how blind we can be to such things in saying to his disciples: "Why are you afraid of your enemies since even in the worst case they can only kill you. Be afraid of the Devil who will take your soul". The length of our journey on earth can not be used to measure the value of life. Even a short life can touch future generations, and a child with Down syndrome, deficient in the eyes of many, is valuable. Such a child's innocence and sincerity melts the ice within us.

I miss Colin. The fragile nature of life makes it so unique. Even though life has often reminded me of the uniqueness of the moment at hand, I still find myself wasting beautiful moments. Will I remember to hug my loved ones today?
Viljo Kojo:
There is no greater punishment for our sins
than that life would not ever fade away
As such - dwindling, it is beautiful and precious
as a golden summer day under the sun