arivatanen.com
mainostoimisto Avalon
Tour de Corse
"This was a new team making its debut under Jean Todt's leadership. The whole Peugeot Board of Directors was there to follow the rally. And I made the fastest time on the second special stage. The only problem was with the brakes. I'd catch Guy Frequelin's Opel on virtually every stage and always by that moment my brakes were shot. So I settled into following Frequelin for a few kilometres, then overtook him and pushed again.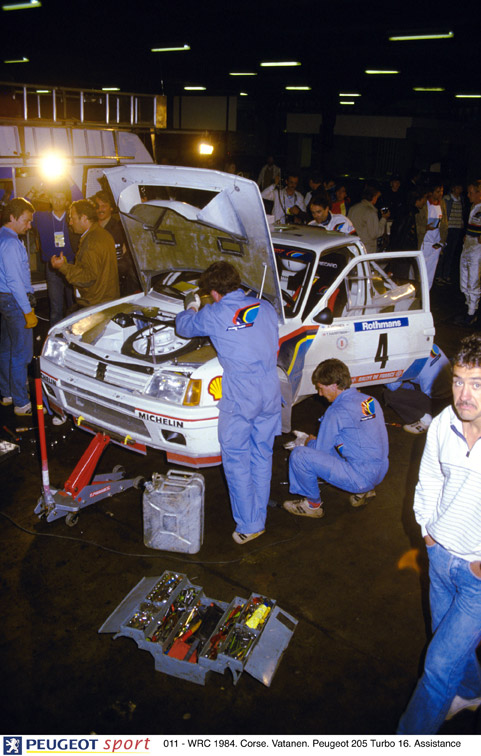 The rally went like a dream for us, Lancias fell by wayside and I found myself leading by nearly five minutes in Bastia!
After Bastia we had to change a puncture mid-stage, which meant our lead over Markku Alen had been cut to under two minutes by the time we arrived in Calvi.
Leaving the hotel with Rita early in the morning I had a very good and totally calm feeling before starting the last leg back to Ajaccio. But my spirits changed at the snap of fingers, when I put the helmet on and could hear nothing but a crackle! It had been raining all night and the dampness had got into our helmets, which had been left in the car. Amidst that crackle I could only hear occasional words from Terry on the intercom.
The first stage was that long, 80 kilometres one that clings to the cliffs on the shoreline. I could see Markku's headlights in my mirror, thinking he'd nearly caught us, when in reality his car was still on the other side of the bay. It was belting with rain, I couldn't hear the pace-notes and my peace of mind was gone!
Then I braked in the darkness without seeing that the rightside wheels were on a stream of water. The car snapped left like a caterpillar, hit the rockface and cannoned back across the road and into the dark. Tumbling downwards I couldn't see a thing, but knew somewhere down there was the sea!
After horrible banging the car stopped on its wheels on an enormous rock and I asked Terry: 'Are you still alive?' We got out just as it caught fire and only then did I realise that my helmet had come off… We can't explain the tragedies of our lives, but that morning the guardian angels were with us."
| | | |
| --- | --- | --- |
| Comments: [ 1 ] | Previous1Next | Page: 1 / 1 |