arivatanen.com
mainostoimisto Avalon
Opel Ascona 1,9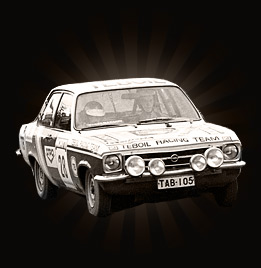 Share this link
Opel Ascona 1,9
Opel had become a very popular rally car in Finland in the latter part of the 60's. In the early 70's the fastback Rally Kadett model with its matt black decorations was pushed aside by the more sedate looking but faster Ascona. Second-hand cars quickly became available and that's how Ari Vatanen got his chance to compete against the best with near-equal equipment.
"It is funny to think back how I absolutely loathed Opels as a child. My mother had got herself a driving licence when I was 12 and she surprised us driving back from Helsinki in a small Opel she'd bought. I was totally dismayed!
Of course I changed my mind later on. During my studies in technical school I already had a Rally Kadett and got a summer job with an Opel Dealer in Kotka, in the south. That felt like an amazing opportunity, as they maintained virtually all of the Finnish Opels used in competition. It sure deepened my relationship with Opel after those childhood traumas.

My Opel Rally Kadett was actually followed by two different Asconas, both previously owned by Hannu Palin, who was a top rank national rally driver in Finland. It was quite a big step from the Kadett.
Lower and with better road-holding, it also had more power, maybe some 160 bhp. Those two double-choke Weber carburettors jutting out from the side of the engine were enough to make me proud! Even the induction noise gave an impression of power!
As a car it was a good fit for me - very well balanced with just a hint of oversteer. It was easy to maintain too. It was looked after by local wizard Ali Haimakainen, who used to work on it in the evenings, straightening the panels and so on.

The second of my Asconas was already fitted with disc brakes also in the back, not just in the front. They, too, made me quite proud, as the first one had drum rear brakes. Altogehter, the Ascona felt like a real, solid rally car."